a product from the industrial revolution
Invented in 1856 to make hats, corrugated paper (which came before the cardboard version), had two British inventors, Healley and Allen. At first they used a simple manual machine with notches.
The first recorded use of it as packaging was in the United States in 1871, to wrap fragile objects like glass bottles. A little later, an American named Oliver Long got the idea of combining corrugated paper with cardboard to make the cardboard stronger.
From then on, the product was used more and more often, and American companies made large-scale use of it.
Corrugated cardboard has changed over the past 130 years according to the needs of its users and the market.
1871
First used of corrugated paper in the US
1888
First English corrugator in France used by an American company
1891-1893
Production of the first French corrugator
1914
First French automatic corrugated cardboard box machine
1968
French corrugated cardboard production passes the million-ton mark
1988
Production reaches two million tons
1998
The latest corrugators make 300 m/min
1999
Each French person uses 83m² of corrugated cardboard: a 272% increase in 30 years. But they barely see corrugated cardboard, it being used mainly to protect products in transit.
2000
French production reaches three million tons, of which 85% is recycled raw material.
an innovative production process
Corrugated cardboard is essentially a kind of sandwich, with a folded layer glued to two opposing flat layers. The flutes can be anywhere from 1 mm to 8 mm apart. The average weight of corrugated cardboard is 575 g/m². The cover layers make the product strong and regulate temperature, and can be printed with information as needed. The flutes make sure the packaging stays rigid, but retain a certain amount of elasticity, making them good shock absorbers.
In order for it to be used in many different ways, corrugated cardboard can be made in different ways. The main kinds of corrugated cardboard are:

Single face:
A single covering layer with flute layer stuck on with glue.

Double face or single wall:
A second covering added to the single face.

Double wall:
A second single face is added to a double face.

Triple wall:
Three single faces with an added cover layer.
Corrugated cardboard is made with machines called corrugators.

These very complicated machines can make up to 300 meters of corrugated cardboard per minute. They can be modified to change the size of the flutes (the folds) according to the way the corrugated cardboard will be used.
To know more about corrugated board manufacturing
a safe, hygienic product
Corrugated cardboard packaging allows for optimal transport and stocking of food products which respects current hygiene regulations:
• It's a one-use product, making contamination risks impossible as the same packaging is not reused.
• All corrugated cardboard packaging is recycled. The recycling process subjects it to high heat, which eliminates all sources of contamination.
regulations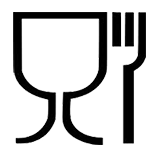 professional commitments
Professionals in the sector have also created guides to good practices, both in France and internationally.